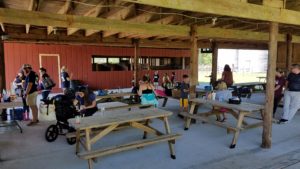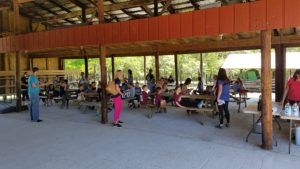 Birthday party and/or Group Event Venue
Rocking B-A-B Ranch is now available to be your next birthday party or Group event venue!!!  Parties and/or events can be hosted in our 2800 square foot covered barn.  Our barn was not designed and built just to host events, but rather converted from a traditional ranch barn into a usable space to host events.  This gives visitors a much more Authentic Farm and Ranch experience during their event.
Birthday party pricing and details:
$300 1-25 guests
$400 26-35 guests
$500 36-45 guests
Includes 1 hour in the barn and a 1.5 hour tour of the ranch.
We can provide up to 12 picnic tables inside the barn as well as tables and a fridge if needed.
Guests will have the choice to tour the farm before or after their 1 hour in the barn.
During your 1 hour in the barn you are free to bring food, drinks, cake and/or ice cream as you please, we do not provide food or drinks. You can arrive 20 minutes early to decorate the barn if you wish.
During the 1.5 hour tour guests will be guided around the ranch where you will have the opportunity to see all our animals and facilities.  Guests will have the opportunity to pet and/or feed many of the animals.
The birthday child/adult and 2 guests will be allowed to enter the Ring-tailed lemur pen and hand feed the lemurs!!
50% deposit due upon booking
Birthday party add-on's include:
Horse or Pony ride    $100 (Horse/Pony will be led around our round pen by Ranch staff while guests ride)
Flavored snow cones   $50, $75 or $100 (includes 2 snow cones per person, price depends on number of guests)
Days and hours for Birthday parties are flexible.  Please contact Josh @ 850-865-5812 or joshuarnelson67@gmail.com to discuss whether we can meet your request or if you have any questions!
Group Events can vary greatly!! Please contact us to discuss the specifics of your group and event to get pricing.